It feels great to see recognition for the hard work everyone in the Logic Square team has put through the year!
Here at Logic Square Technologies, we've always sought excellence. Our team is committed to delivering the best product for our partners, and therefore put forth their best efforts to create innovative solutions to address their needs.
As a result, we've scratched and clawed our way to the top of the industry.
We're ecstatic to announce that we've recently been named a top development company in India by Clutch!
Clutch is an online platform with a vast collection of reviews and B2B tech resources. Their analyst team evaluates technology service and solution companies based on the quality of their work, market presence, and previous experience. Their reviews process is reliable and transparent, ensuring users that they are getting accurate information on various vendors.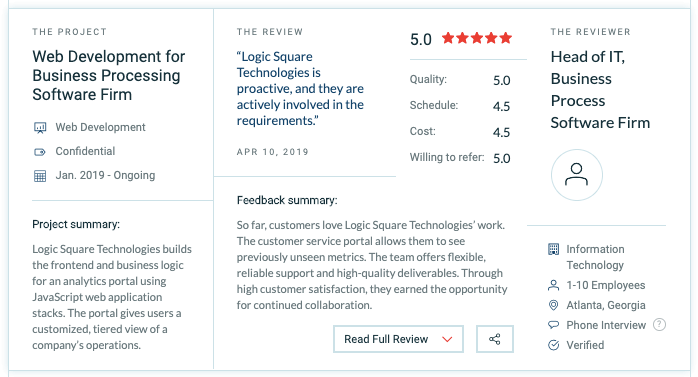 Using the information that they collect in these review calls, Clutch is able to rank companies and identify top performing agencies. Out of the thousands of other service providers included on the platform, it's a huge honor to be singled out and selected for this award.
Now that we've achieved this—what's next?
We're planning to expand our presence in the USA & UK in 2020. We've been working on new innovative products like Huddlespot (co-working space management), RepuStream (reputation management), True Fanz (influencer backed social media platform), Squiggle (restaurant feedback and queue management), Recruitech (smart recruitment management solutions for agencies).
So, we're thrilled to see what the next year has in store for our team!
To get in on the madness (or magic), contact us through our website.